Help Desk Software

Service Management

nService Screenshots

Online Demo

Free Trial
How To Buy

Support

Retired Products

About Us
Human activities in the business world are services. Employees provide services to their employers. Departments provide services to each other. Companies provide services to their clients. nService is an enterprise service management software solution for managing all these services.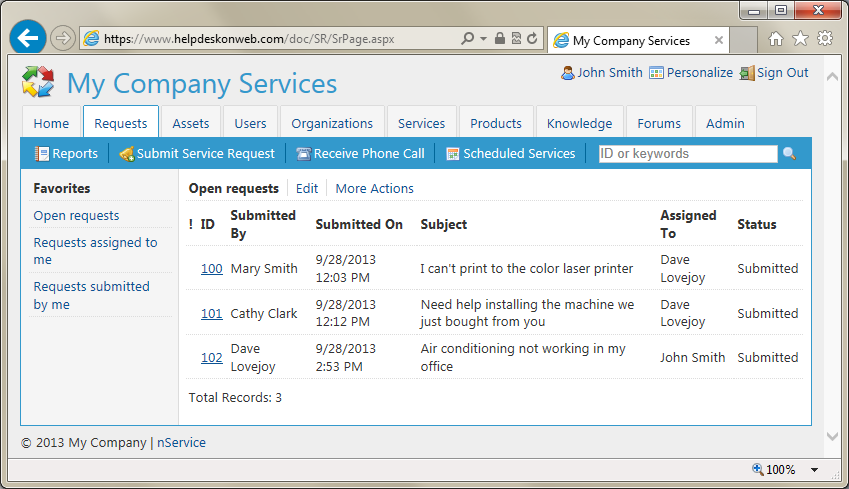 Take a Tour
Problems
Currently some of these services can be managed by specialized software such as help desk and customer service software. The rest falls back to using email. Both solutions have their problems.
| | |
| --- | --- |
| 1. | Emails are personal. Content and knowledge are not easily shared with other people. |
| 2. | Emails are unstructured. The only fields are from, to, subject, date, priority and body. The lack of fields makes it hard to collect data, search and apply automation. |
| 3. | Emails lack workflow capability. There is no way to assign a state to an email and take actions on it based on its state. |
| 4. | Most specialized software products are hard to use, limited in functionality, and expensive. |
| 5. | They lack true workflow capability. They don't let you design different states, actions and action forms for different services. |
| 6. | Different department uses different systems resulting in multiple procurement, training and maintenance expenses. Different systems don't provide a unified, consistent and easy to use service website. |
The nService Solution
nService provides a state machine workflow engine with states, actions and action forms. A team sets up a service. Users request it. Technicians take a series of action on the request by filling out a series forms. The actions move a request from start to finish through multiple states. Advantages of nService:
| | |
| --- | --- |
| 1. | Requests are centralized. Content and knowledge can be shared with the group and requesters. |
| 2. | Requests are structured. There are many fields such as assigned to, status, resolution due. They can be used to search and display requests more easily. |
| 3. | Easy to use and rich in features. |
| 4. | Provides true workflow capability. Users take actions to move request between states. Different services can have different workflow with different forms and actions. |
| 5. | All departments, including IT, customer service, professional service, development, facility management, accounting and HR, can publish their services on the same website, presenting a unified website to not only the employees but also to the external customers. Management can see what is being worked on throughout the entire enterprise. |
nService can be part of the infrastructure of your organization. When an employee comes to work, she would first open up nService and see all she needs to work on and all her team is working on. When she needs something done, she creates a request. A customer can discover and request all services she needs from a public nService website.
Features
| | |
| --- | --- |
| 1. | Self-help portal for end users to submit service requests / work orders and check their status |
| 2. | Website for technicians and managers to list, assign and record work done on the service requests |
| 3. | Integration with your email system for importing emails and sending notification emails |
| 4. | Service billing, service level agreements (SLA) and contract management |
| 5. | Support for multiple services with different users, technicians, forms, workflow and notification rules |
| 6. | Asset management and linking service requests to assets to keep track of asset service history |
| 7. | Group based security and integration with Active Directory |
| 8. | Knowledge base, forums and product catalog management |
| 9. | Powerful reporting tool for building tabular, matrix and chart reports |
| 10. | nService Website can be installed on Windows or Windows Azure |
Testimonial
Our company runs an outsourced IT help desk, and after working our way through a number of help desk softwares we were lucky enough to come across Avensoft nService. This software has dramatically improved the efficiency of our help desk, and as a manager I can easily monitor technicians job queues, and closely watch overall service levels. We have found nService very flexible and easy to customize. The software we had used earlier was so time consuming to customize. As we take on new engineers, they often comment on how easy to use nService is. Mark Anyon, Fission IT
System Requirements
For the server computer where nService is to be installed: Windows Azure, Windows Server 2008/2012 or Windows Vista/7/8, and MS SQL Server 2005/2008/2012.
Users can access nService using any web browser from any operating system. You can download free SQL Server.